We offer individual tuition in oils to adults and older teenagers and have a 'Make your own Masterpiece' programme.
In this program students can enhance their skills by making a master copy of an oil painting which could be an old master or a Matisse or another 20th Century artist.
Making a master copy has been a traditional and essential way of learning to paint and students are encouraged and assisted in undertaking comprehensive research of technique and materials. As the year progresses we will have guest artists offering tuition in watercolour, pastels and state of the art acrylics.
Nicole Black
works across a variety of mediums and surfaces from commercial to personal projects, Nicole is a very experienced tutor and has worked extensively in the eastern states and is an Illustrator, Artist and occasional Graphic Designer.
Nicole has studied Visual Arts and Graphic Design giving her the expertise to work across various analog and digital mediums. She has many personal projects, commissions, and collaborations, which sees her "style" constantly developing. This broad experience and Nicole's love for the creative process makes her the perfect fit for ongoing workshops and teaching at The Paint Box in Hahndorf.
For bookings and information, contact mail@thepaintbox.com.au.
---
Rebecca Prince
Bec Prince owns and manages Arty Types at The PaintBox and the Hahndorf Academy, specialising in children's and adult's art classes designed to encourage confidence as well as develop technical skills. Bec's classes offer the opportunity to explore possibilities, broaden the imagination and have fun experimenting with lots of different art techniques. We provide a fun, non-threatening environment for children and adults to work in and always strive to inspire and encourage individuals in their creative endeavours.
Classes cover a large age range and a variety of art forms including drawing, painting, printmaking and sculpture techniques using all sorts of influences and are continuously adding new media and ideas to the mix. We also run school holiday workshops and more specific adult's classes in life drawing and watercolours. Please click on the above link for more specific information and pricing.
For bookings and information, contact mail@thepaintbox.com.au.
---
Alison Waye
As a realist oil painter, Alison is fascinated by our visual experience of reality. Using oil paint to express ideas related to how we as individuals relate to the rest of the natural world. Alison has a Bachelor of Visual Arts and Design from AC Arts TAFE, Honours from Adelaide Central School of Art and a Graduate Diploma in Teaching (secondary) with a double major as a Visual Arts teacher. Her work is about our relationship with the natural environment, and in particular how humans relate to other species. Alison exhibits regularly and provides workshops teaching the fundamental skills of oil painting at The Paintbox.
For bookings and information, contact mail@thepaintbox.com.au.
---
Christina Metelli
Born in Milano, Italy, Cristina Metelli studied at art school as a teenager, before immigrating to Adelaide, Australia where she continued her artistic education, earning a Bachelor Degree in Visual Art (First Class Honours) from Adelaide Central School of Art. Cristina makes paintings, sculptures and assemblage works that investigate the extent to which human lives are entwined with the natural environment, in both a physical and emotional sense. From the perspective of a migrant to Australia, Metelli explores subjects ranging from environmental sustainability, to the perception of the spirit of a place and a sense of belonging, generated through an emotional and sensorial response to nature. Guided by practice-led research, her investigations draw upon her interest in the fields of both natural sciences and psychology, and the way in which people can be affected by their interaction with nature.
Stay tuned for Christina's next classes at The PaintBox.
For bookings and information, contact mail@thepaintbox.com.au.
---
Liana Vargas
Liana started her creative career as a Flamenco dancer and performed in many of the worlds most illustrious Theatres throughout Europe, the United States, and Central America. After nearly 10 years abroad travelling and dancing, she returned home to Australia and felt a great need to expand her creativity into the visual arts. Until this time her love of drawing and painting had taken a second place in her life. Her intensive art training followed with a full-time degree in Visual Arts Degree (BVA) at the Adelaide Central School of Art. Not long after receiving her Bachelor of Visual Arts degree, Liana was awarded a Winter Artists Residency at the Scuola Internazionale de Grafica in Venice.
As well as being an active exhibiting artist, Liana has dedicated herself to helping others achieve their artistic goals through her workshops and classes for Adults, Teens, and Children. Her painting and drawing workshops and classes are offered at The PaintBox. "You choose what to paint, with like-minded people, while enjoying generous – gentle instruction".
Since graduating with a Bachelor of Visual Arts (BVA) from Adelaide Central School of Art in 2012, Liana has actively offered tuition in painting and drawing, with wonderful results, stating "I love seeing the confidence build as my students progress and their self-assurance grow. I believe art is essential and vital for we are, at the heart of it, creative beings".
Stay tuned for Liana's next classes at The PaintBox. For bookings and information, contact mail@thepaintbox.com.au.
---
Robin Hicks
Robin is an artist working over a number of mediums' with considerable teaching history. For this series of classes, she is focussing on one of her favourite mediums, watercolour. Robin is endlessly inspired by watercolours because of the way the paint flows, it's transparency and its ability to create glowing effects using multiple layering of colours. Robin feels a deep connection with nature and the inherent synchronicity between us in the world and she feels that through watercolours and painting, in general, she can portray shapes, contours and designs found in nature, including the beauty of gems, crystals and minerals. Robin has a diploma in graphic design and was an illustrator for the South Australian Museum, where her passion for drawing minerals was born.
Robin works in watercolour, oils, pastels and mixed media, and will tutor in watercolour at The Paintbox for beginners to advanced students.
For bookings and information, contact mail@thepaintbox.com.au.
---
Julie Strawinski
Julie Strawinski is an internationally acclaimed visual artist, specializing in oil painting. She is renowned for her intimate eye portraiture and gemstone paintings. Julie feels the traditional techniques of oil painting and the use of high pigment oil paints gives her works an inner glow that is unsurpassable. With 25 years of teaching experience, Julie will guide you through the many processes required to achieve a painting the Great Masters would be proud of. Julie is also an experienced and talented printmaker, she will be offering classes and workshops in this medium at The Paintbox.
For bookings and information, contact mail@thepaintbox.com.au.
---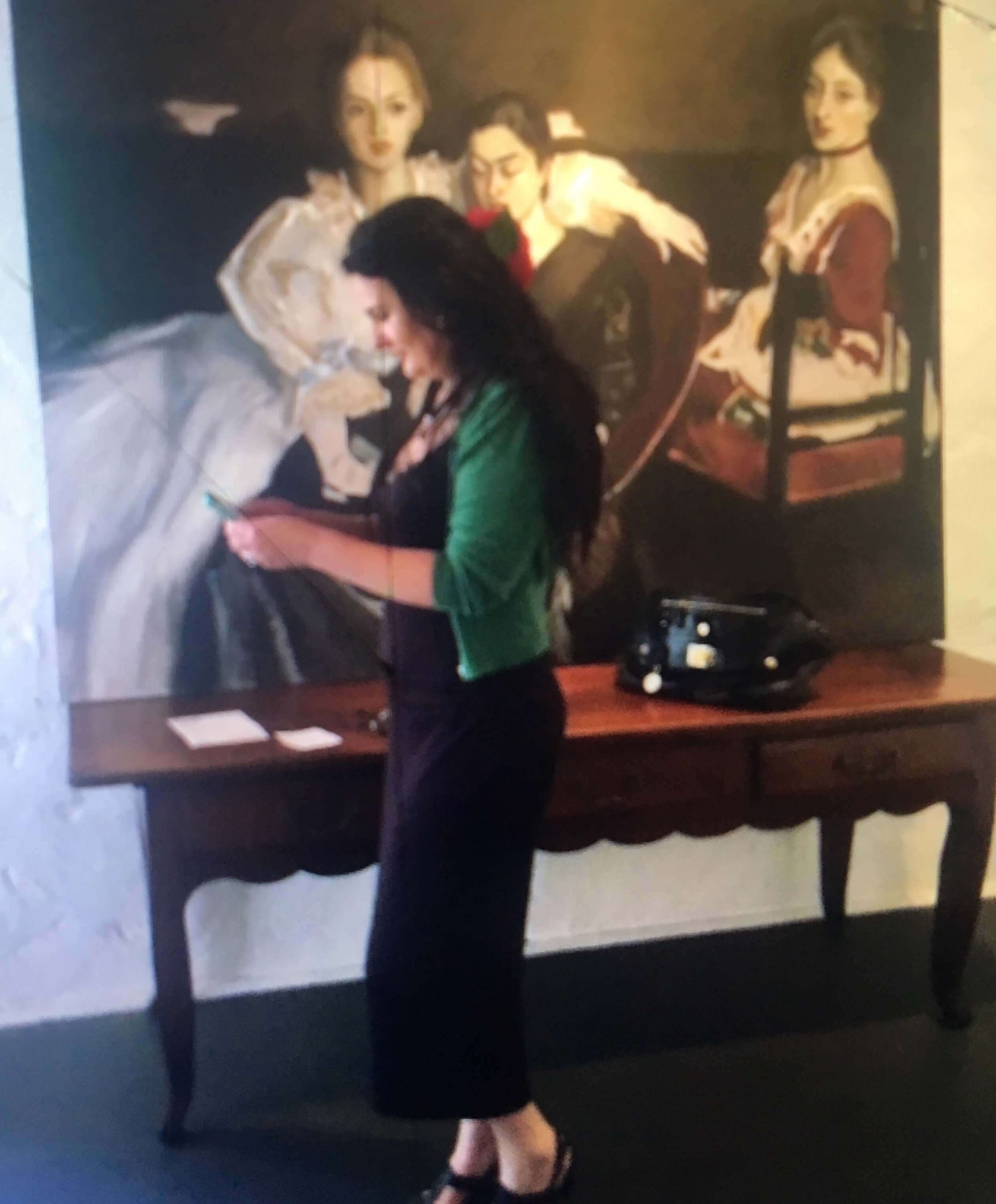 Rebecca Madden
Rebecca Madden is the artist in charge of the The Drawing Room Studio and Gallery in Hahndorf. Rebecca has a 35 year career in visual arts as an oil painter and as a tutor. Rebecca offers mentoring and classes at The PaintBox in both oil painting and general drawing. Rebecca's background in the arts spans from Falmouth Art School in the 1980's and later the completion of a Bachelors Degree in Visual Arts at The North Adelaide School of Art. Call in at The PaintBox to speak with Rebecca about her classes, Artist Residencies and opportunities to exhibit in The Drawing Room Gallery, Hahndorf in the Adelaide Hills.
For bookings and information, contact mail@thepaintbox.com.au.